Blog
2013-06-07
a new look for your Kwikwap website
Get a Winter makeover for your Kwikwap website and learn about all the exciting new features the Kwikwap system offers!
Winter is here and the time for layers and layers of your favourite Winter clothes, comfey blankets, cosy fire places and cups full of hot chocolate has finally arrived. At Butterbee we've been busy with a whole bunch of Kwikwap website revamps as well as a few new sites still in the making.
It has come to our attention that there are quite a few Kwikwap client's with Websites in desperate need of some attention.
There's been so many new features added to the Kwikwap system during the past few months, that most of our clients are now asking for extra training sessions and help with their Website's look and feel. Kwikwap is a Content Management System and its always important to keep in the loop of what's new. We're sure if you're a Kwikwap client of ours you did receive a notice when logging into your portal with a list of new features but if this is not the case - no need to panic as we'll recap you on everything!
To refresh these features, here is a list of new things happening within Kwikwap's portal:
1. Image Editor
We have now built an image editor into the Kwikwap system. You can add borders, change brightness, contrast, resize the image and add some nice affects too. We will constantly be adding new features and enhancements to the image functions. This is a quick and easy way to make images that are too big on your website smaller, make the image fit your website perfectly.
2. Online Tutorial
We have created a short online tutorial to help clients get an idea of how the system works and how everything fits together. You can find the Tutorial icon in the main bar next to the Online Help.

This is something that will grow with time so if you have comments or suggestions please mail them to chris@kwikwap.co.za.
3. Auto email sending to survey respondent
You can now automatically send an email to a Survey respondent with 100% your own custom text. Create a new Survey or Edit the title of one to activate this option for your form. Note: You must capture the respondents email address for this to work.
4. Video Module
You can now share your video's via Youtube or any other video sharing site in our latest Video Module. Just copy and paste the embed code from the video sharing site and that's it! You can also assign categories to the videos for people to find them easier. Enjoy!
5. Out of Office on Emails
You can now setup your own out of office message from within the Management Portal. Please go to Admin & Reports -> Domain & Email Management.

You will see an icon next to your email accounts where you can setup your Out Of Office messages.
6. Out of stock feature for Online Ordering
Great news for all our clients using the Online Shop Module. A new 'Out of stock' feature has been added. Just edit a product and you will see a tick box under the price text fields, you can also specify the display text under 'Click here to change store settings -> Update your cart and custom settings'
7. FAQ Groups
We have great news! Now your Frequently asked questions can be split into groups. These Groups support images as well as descriptions. We have also made it easier to answer questions asked by potential clients from your website, you can just browse to the FAQ section and click on 'Questions by Potential Clients' to answer the questions asked from your website.
8. Custom Menu Box
We have created a customizable menu box where you can include custom links, text and images. The area is easy to use and you can also switch between boxes very easily. The Custom Box will appear just below the generic website links.
Let your site stand out from the rest!
Its always wonderful to get positive feedback from clients once there sites are done and ready for take off.
If you feel that your site could do with a makeover or revamp you've made your landing at the perfect place. Butterbee specializes in Kwikwap revamps and complete site make overs.
Below is a sample of how a site can be changed from a simple plain template to a website specially built around a client's Corporate Identity.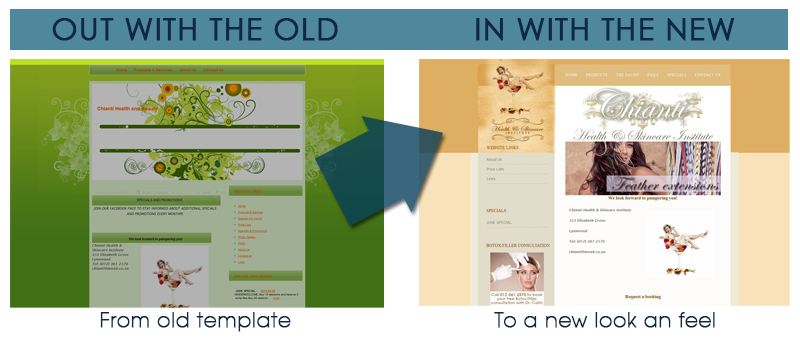 The new look and feel for this client was built around their Logo and new price list.
Kwikwap makeovers usually ranges between R950 and R1200 depending on the amount of changes.
What do we do for a Kwikwap Website revamp or makeover?
We choose the correct Template to fit your Company's Corporate profile.

We edit the stylesheet and a few bits of Html.

We create specially designed animated banners, hovering sidebars, a landing page and insert images into your site to match your corporate identity.

We hook all your Social profiles to your website.

If and where necessary, we reload your products/services pages and arrange content in a neat looking and professional way.

We make sure that your prudcts, about us page and descriptions are filled out correctly for SEO purposes.

In case you're making use of a Gallery on your site we see to it that all images are neatly sized and your Gallery display is working together with the unique look and feel of your site.

As a bonus we don't charge for stock images used on your site from our drive filled with images to suit most industries.
We're looking forward to helping you building your brand, selling your products, advertising your services. We want you to be happy with our service and dedication towards lending a helping hand in Managing your own Website.
One on one Kwikwap Training:
Kwikwap training at R350 per one and a half hour session.
We're looking forward to hear from your!
Laughter is the sun that drives winter from the face!
Louinne Prinsloo